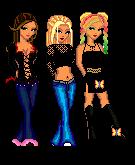 Gold Lights are the shrines of the senshi. Only one has been started, which is Serena/Usagi's. In the shrines will be information of the character, a journal, pictures, and more. This project is set to start in early August, the beginning date is not set yet.

Mirror Reviews is, as it's name, a review service. Currently, we have 3 reviewers, and are looking for another reviewer so we can begin. We will be doing webpage reviews, fanfic reviews, RPG reviews, and bio reviews. This project will start as soon as we get another reviewer, so if you're interested, please pet us know immediately.

Star Shine is a top secret project. No details being spilled. You'll find out in September!